Thankfully, you are okay and so are your passengers, but your car may be damaged beyond its current value.
Here's what to do next:
Call your insurance advisor and report a claim.
Your insurance carrier will send a claim representative to evaluate your vehicle and determine if your car is a total loss, which means it isn't economically reasonable to repair the vehicle. There are many variables that insurance carriers consider when determining if repairing the car is feasible, including:
vehicle age and mileage
areas of damage on the vehicle
repairability
airbag deployment
If the cost of repairs exceeds the value of your vehicle, most insurance companies will consider the vehicle a total loss or totaled.
When your vehicle is considered totaled, it will be sent to the salvage yard. Before the car is picked up and towed to the salvage yard, you should remove all your personal belongings from the car.
You'll also need to find your vehicle's title and begin looking for a replacement vehicle.
Why is your vehicle worth less?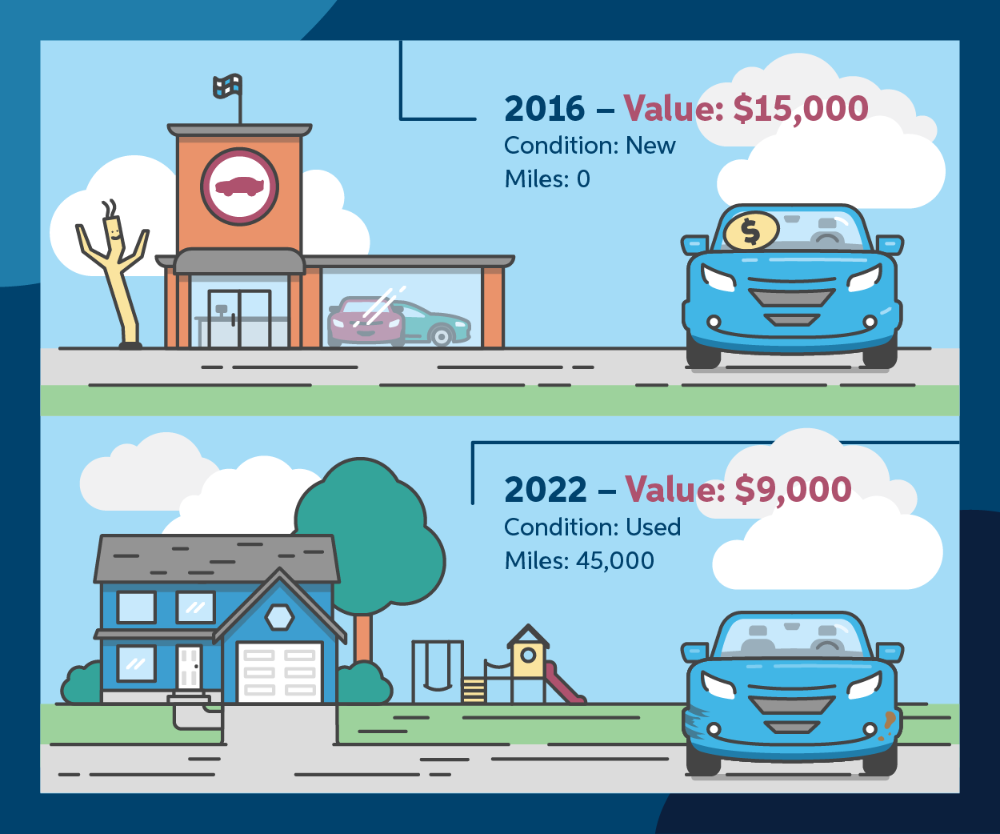 A big misconception when it comes to totaled vehicles is the worth of the damaged vehicle. Your insurance policy does not provide a claim payment to cover the cost of a new car or a more expensive used vehicle.
It pays the actual cash value of the damaged vehicle, which is the amount you would pay for the same vehicle today. 
In most cases, your deductible will also be deducted from the payment you receive.
The goal of auto insurance is to help you get your life back to where it was before the accident. Some insurance carriers will offer additional coverages that allow you to be compensated the purchase price of your vehicle rather than the actual cash value; however, this is typically only available for newer cars.
What happens if my vehicle is totaled with a remaining loan balance?
If you have a loan balance on the car, your insurance carrier will pay off the remaining balance and pay the remaining equity to you.
What if you have negative equity? If your auto loan balance exceeds the value of the car, then you will need to pay what's left of the remaining loan amount.
This is why Auto Loan/Lease coverage, also known as gap insurance, is so important if you have a loan on your vehicle. It covers the leftover amount when your car is totaled but has a remaining balance after your claim payout is applied.
Can I keep my rental car until I purchase another vehicle?
A common misconception is you have coverage for a rental vehicle until you find a replacement vehicle. That is not true. You usually have a rental vehicle for only a set number of days after your vehicle is considered a total loss, specified in your auto policy.
All policies are different, so check your insurance policy or ask your insurance advisor how many days and what dollar limit you may have for rental car coverage. It will be a specified number of days after your vehicle is considered a total loss, not however long it takes you to find a replacement vehicle. It's important to start your search for a replacement vehicle quickly.
Questions about your auto insurance policy? Contact us. We look forward to answering your questions.
About the Authors:
Connie Greenwood, Personal Insurance Advisor
Connie Greenwood has 35 years of experience as an Insurance Advisor. She enjoys helping her clients and prospects understand their insurance options, and crafting insurance solutions tailored to their unique needs. Connie finds great joy in being a trusted advisor for her clients. She loves helping protect their financial welfare against unforeseen accidents and circumstances and bringing them peace of mind.
Tim Pingel, Personal Insurance Advisor
Tim Pingel has almost 20 years of experience as a personal insurance adviser. He provides individuals, couples, and families with home, auto, and umbrella insurance. His ultimate goal is to be his clients' trusted adviser and expert, so they have the peace of mind and protection they deserve.
Notes: https://www.auto-owners.com/ao-blog/-/blogs/totaled-car-here-s-what-you-need-to-know-and-what-happens-next#How_long_can_I_have_a_rental_vehicle_when_my_car_is_totaled